If you're searching for a luxurious home away from home in Barcelona, look no further. La Casa de les Lletres has everything you're wishing for and more.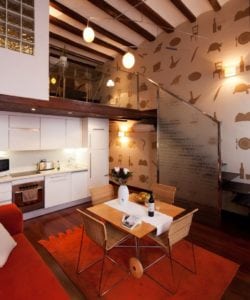 Set in the beating heart of Barcelona's treasured Gothic Quarter, La Casa de les Lletres is located on the lovely Plaça d'Antonio López and offers sweeping views of the old Correos y Telégrafos (post office) building, the Cap de Barcelona sculpture, and even waterfront Port Vell. It can be booked for short- or long-term stays and is perfect for solo travelers, couples, and families alike.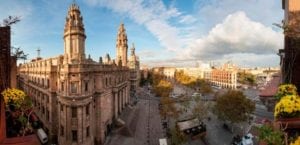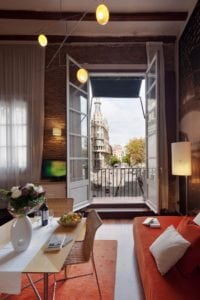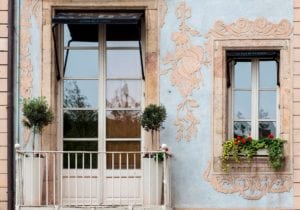 In addition to the perfectly central location, there are elaborately decorated literature-themed apartments, delightfully squeaky wood floors, and unbeatable golden-hour balcony views. There's also a ground-floor café serving up breakfast, lunch, and dinner–opt for intimate al fresco dining under twinkling lights in the plaza, or if you'd prefer a night in, there's always room service available.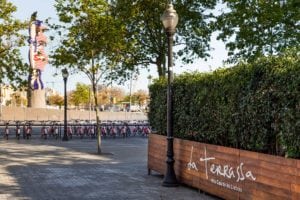 The building's six apartments are stacked atop each other, so all of them offer the same stunning view from their balconies. Each floor is tastefully decorated to honor the literary achievements of a specific author with ties to Barcelona–for example, the fourth floor celebrates the work of George Orwell with giant "GO" initials adorning the walls, while the first floor features a famous quote by Jaime Gil de Biedma. Look around long enough and you'll find a hidden bookcase containing volumes by each apartment's chosen author!
As digital nomads, my husband and I were especially grateful for the fast and reliable WiFi, the complete kitchen (outfitted with oven, stovetop, kettle, microwave, toaster, refrigerator, and freezer), the washer/dryer, the plentiful scooter parking outside, and the grocery store just a few steps away. La Casa de les Lletres truly felt as comfortable and convenient as home. Additionally, the key fob-enabled entrance coupled with the automatically locking apartment doors helped us to feel safe and secure. Plus, the owner of the building and the waiters in the restaurant downstairs were always available to resolve any problems or answer any questions that arose.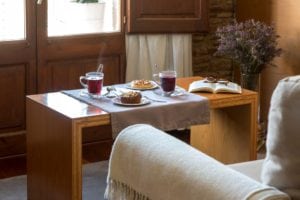 Between the charming views, the attentive service, the lush amenities, and the impressive details, the hardest part of your stay at La Casa de les Lletres will be convincing yourself to leave the apartment. If you do manage to pull yourself away, rest assured that you'll do so feeling both cultured and refreshed.
Photos courtesy of La Casa de les Lletres.