With all there is to love about San Francisco, sometimes the grit overshadows the charm and other nearby cities glisten with the promise of fewer crowds, more affordable prices, and an off-the-beaten-path appeal. Of those nearby cities, Oakland is perhaps the most convenient to access from San Francisco, and its maritime allure is hard to resist for those seeking a seaside respite.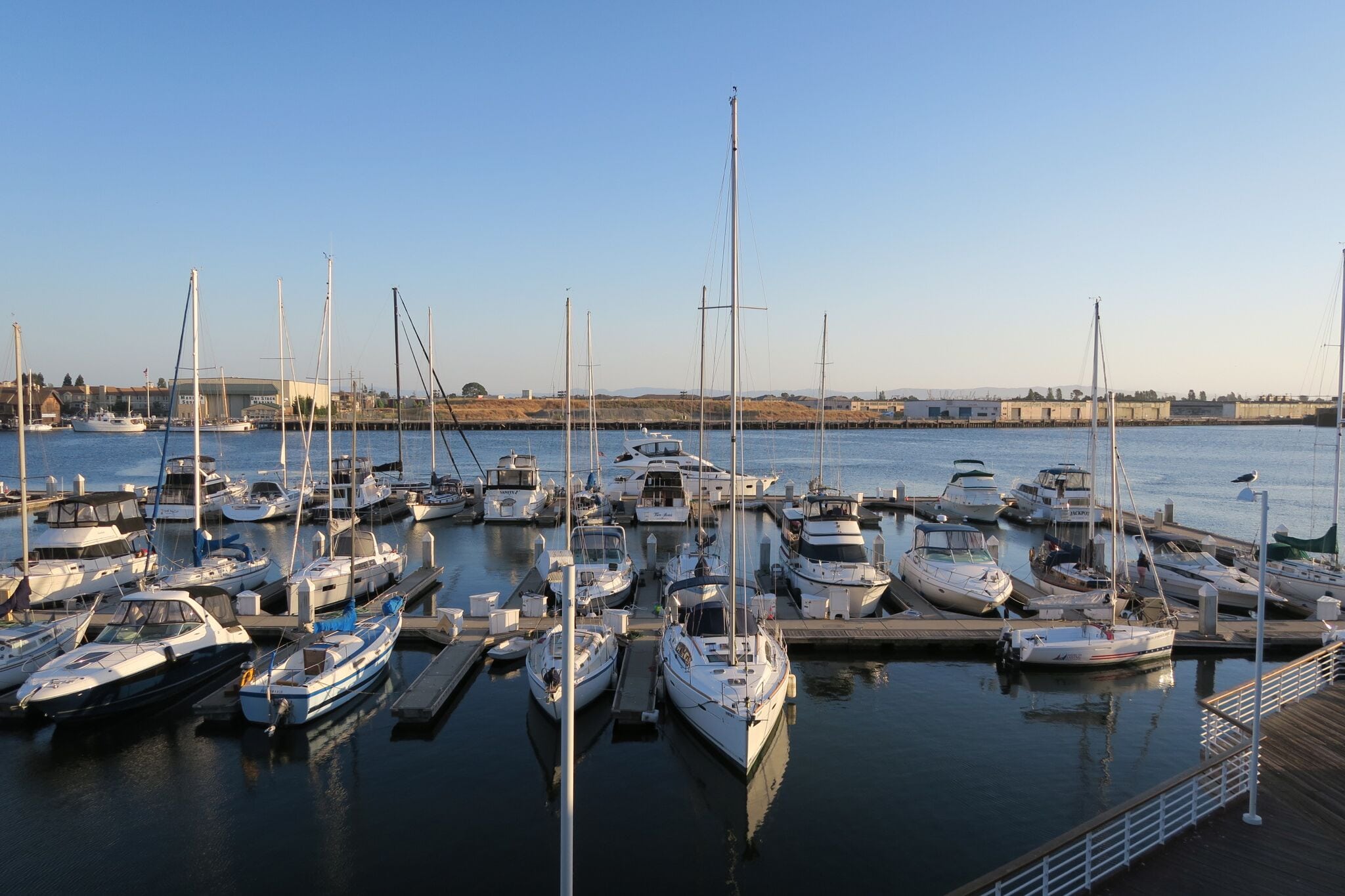 In waterfront Oakland, there is no better place for sailors and landlubbers alike to shake off their sea legs for a spell than at the aptly named Waterfront Hotel at Jack London Square.
Old-school nautical from ceiling to floor, entering the Waterfront Hotel feels a bit like climbing aboard a cozy old ship (and in fact, I had to remind myself more than once during my stay that I wasn't adrift at sea!). There's wooden-oar wallpaper, antique brass oil lamps, and that particular breed of over-the-top sea-inspired decor that usually only works in salty little dive bars but somehow feels homey and delightful here.
And, of course, the Waterfront Hotel's color palette of choice is nautical navy and golds paired with gleaming varnished wood, adding to the lingering sensation that maybe, just maybe, you've found your way onto the yacht of your dreams…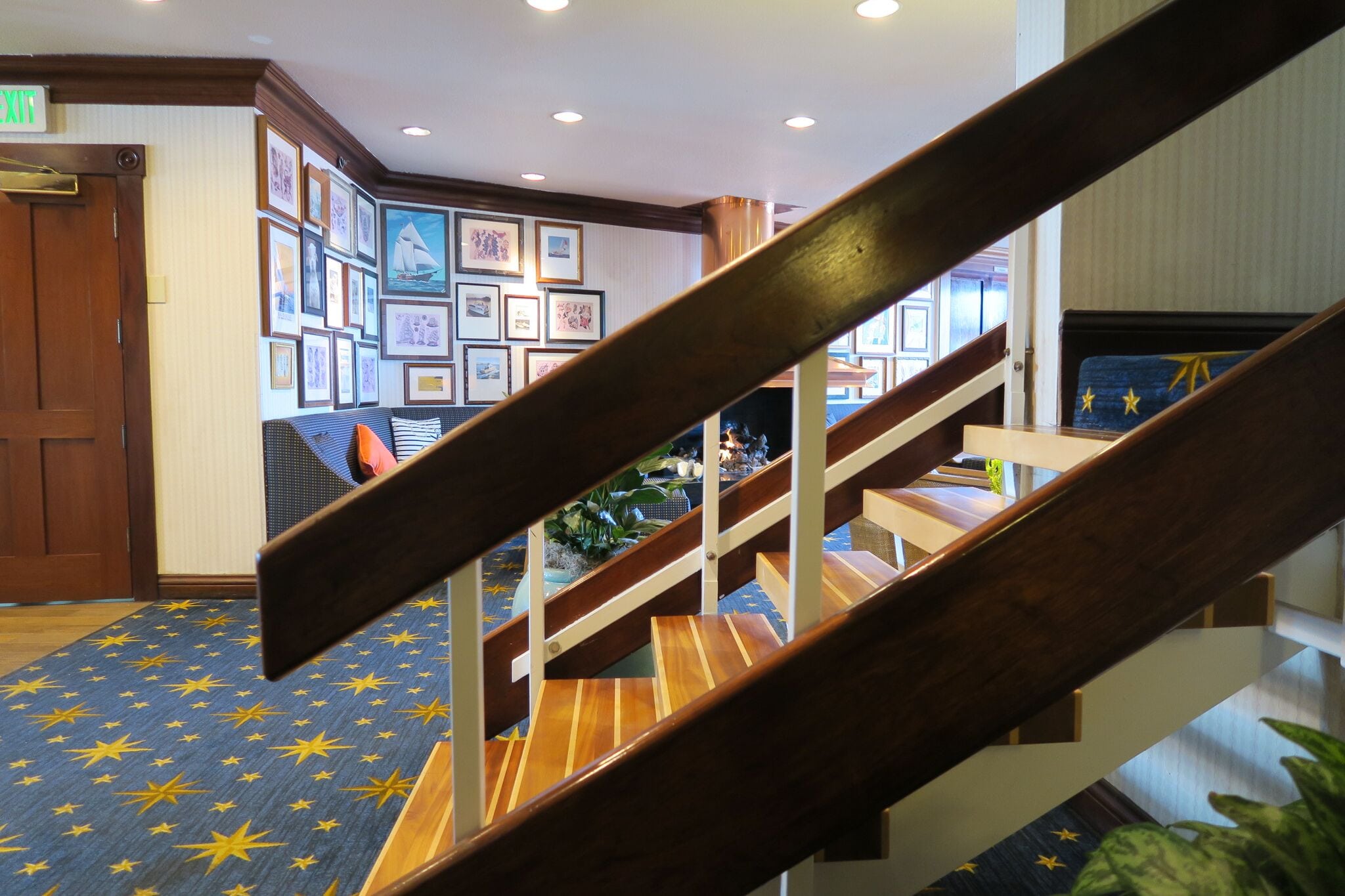 One of the only guarantees in life is that when there's an ocean nearby, libations are too. Set aside your early evenings at the Waterfront Hotel for the daily wine and cheese hour in the hotel lobby. With a roaring fireplace, compass-patterned carpet, and well-loved couches to sink into, this little nook is an incredibly inviting spot to curl up with an anthology of Hemingway or swap stories with strangers of long years spent at sea. (Don't worry if you have none—real sailors make theirs up too.)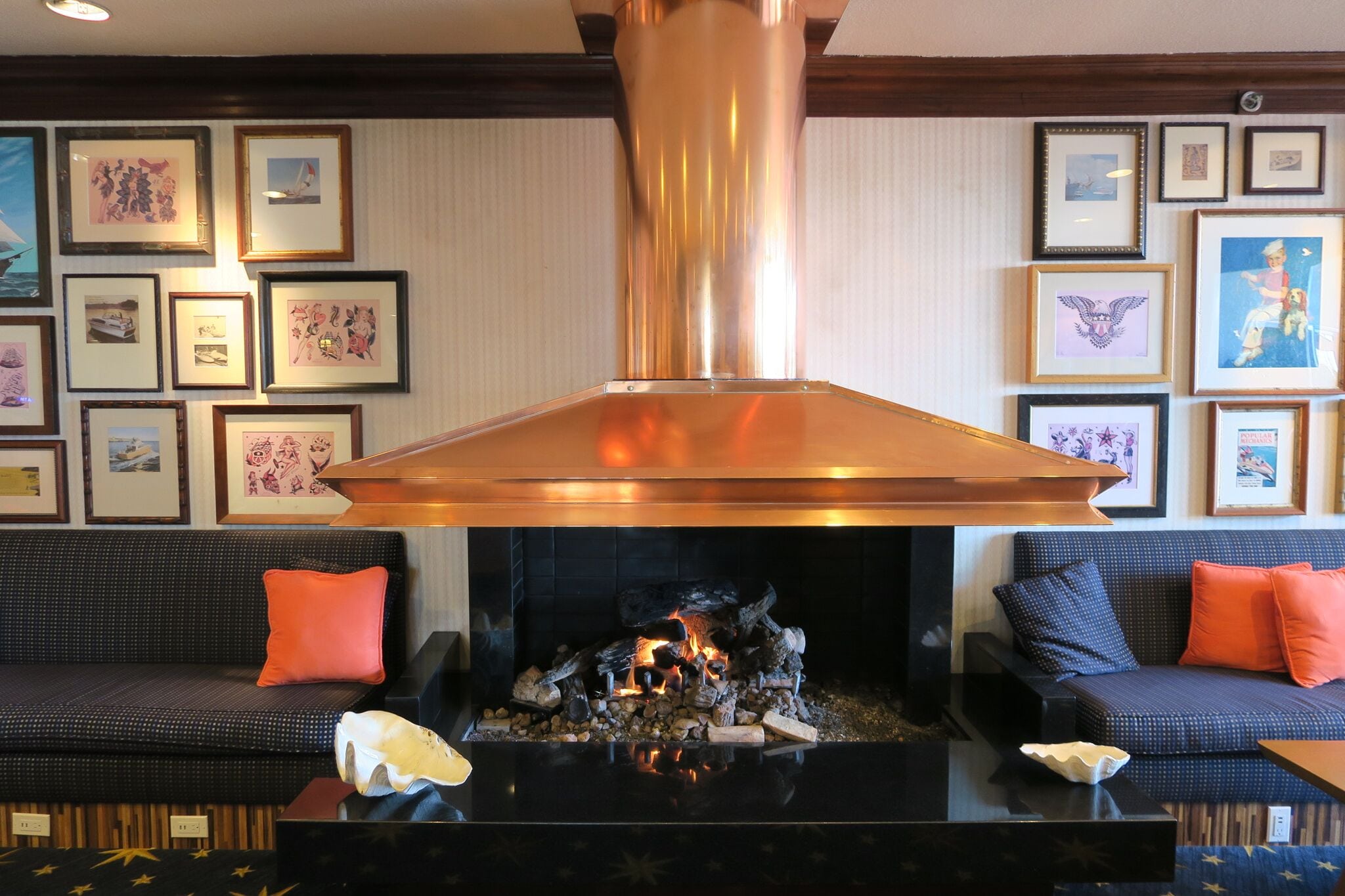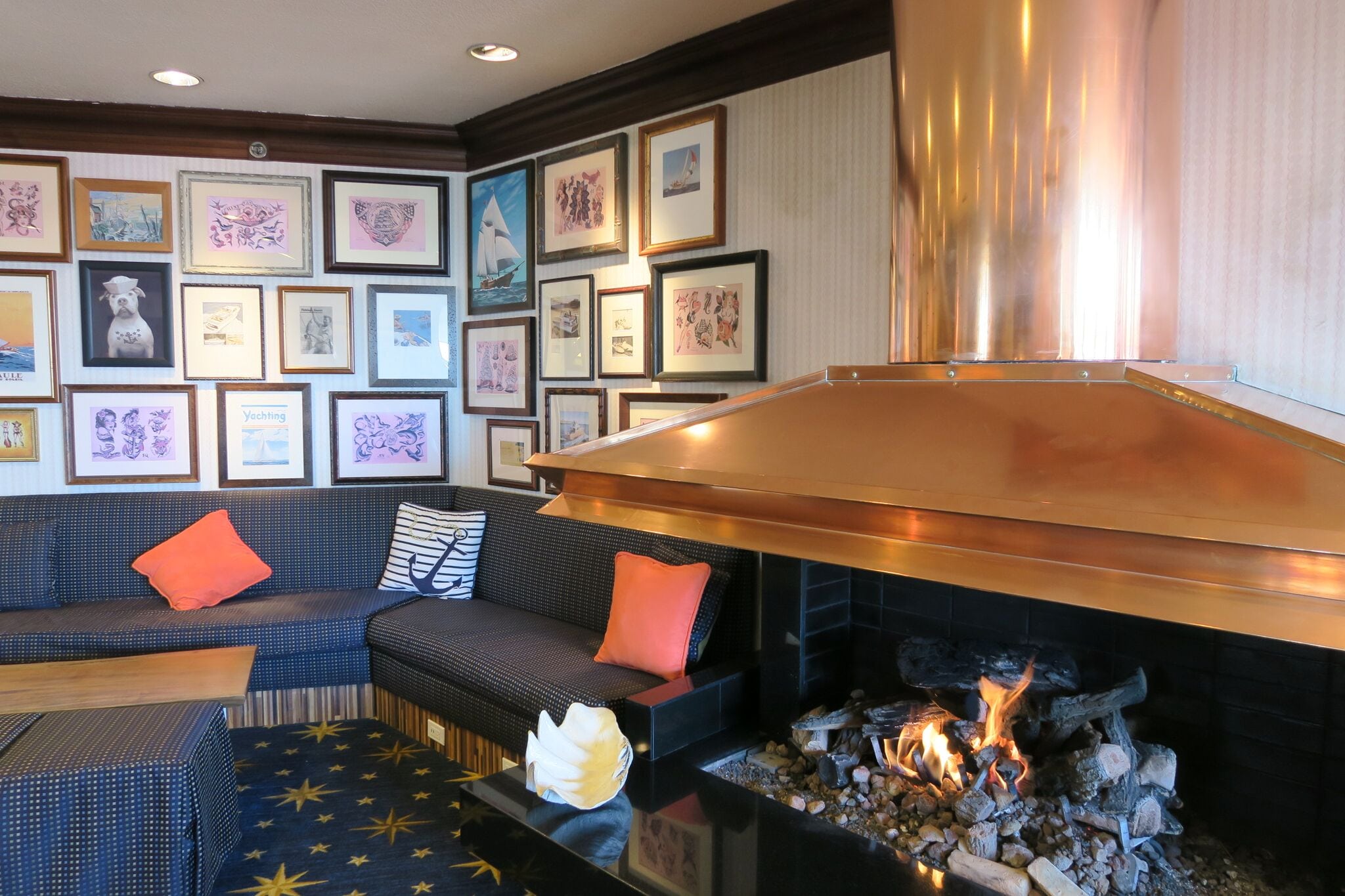 Of course, other than the hotel lobby, the prime spot for passing the time is your own balcony (you'll definitely want to spring for a waterfront room here). From your perch over the Oakland harbor, you'll find it easy to whittle away a few hours watching the comings and goings of sailboats, ferries, barges, and more. The heated pool that sidles up to the marina's boardwalk may be the only thing able to draw you away, since it offers the same sweeping view of boats and pelicans bobbing in the waves.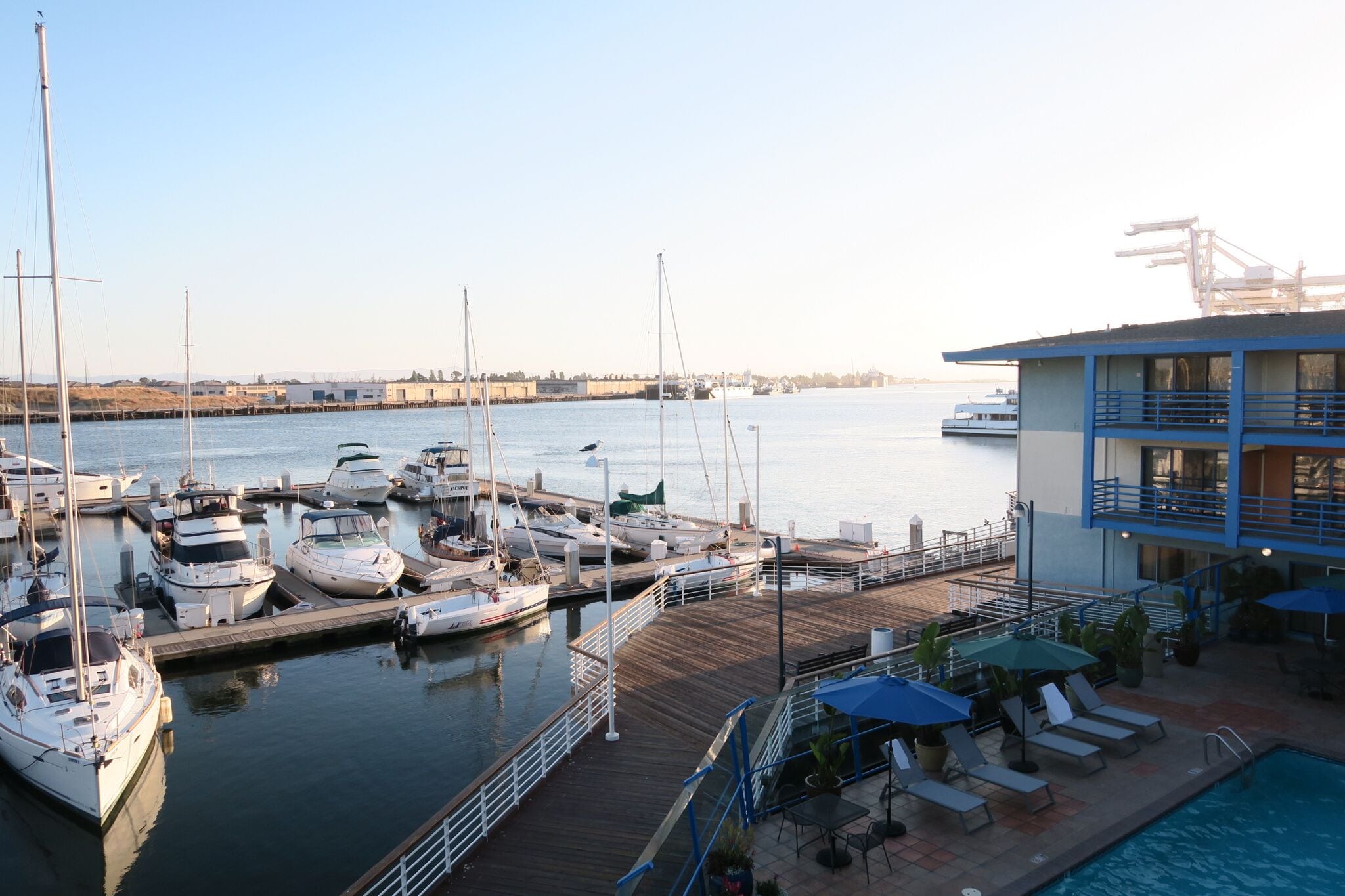 With the entirety of the Oakland waterfront in walkable reach, this Joie de Vivre hotel truly does induce that particular brand of "joy of life" that comes part and parcel of laid-back living by the sea. You'll hear the screech of gulls, fill your lungs with salty air, and smile as golden hour twinkles through billowing sails in the San Francisco Bay. Oakland is an utter change of pace, a breath of fresh air. Though it's an easy getaway from the windy streets of San Francisco, it feels worlds away, recalling a breezy sophistication that is a wee bit reminiscent of (dare I say it?) East Coast living. And sometimes—just sometimes—that's just what the West Coast needs.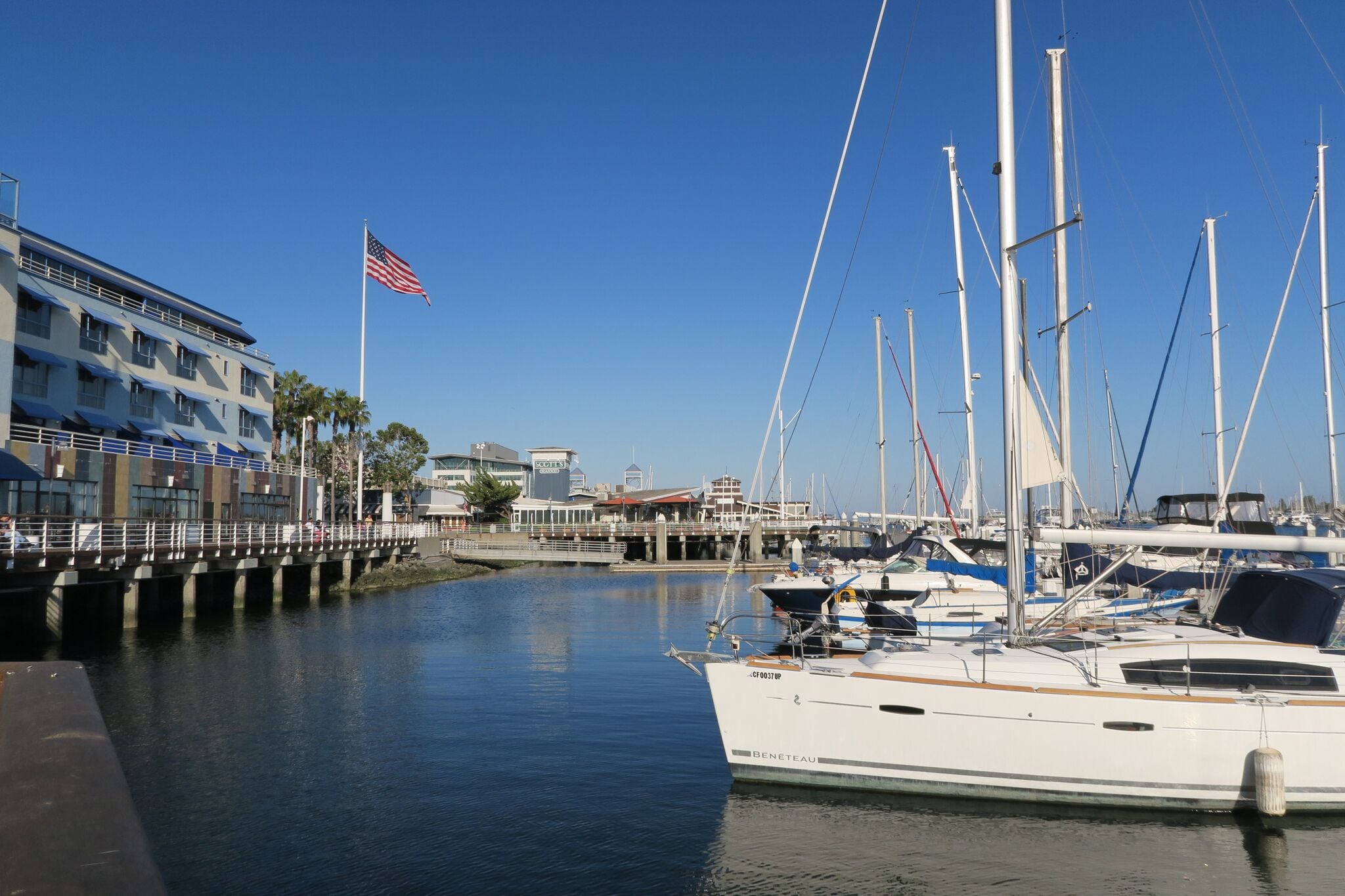 Getting there: Oakland is easily accessible by BART or car, but my advice is to always opt for the scenic route: in this case, the ferry, which docks just feet from the Waterfront Hotel. One-way trips are $6.70 per adult and the ride takes about half an hour from Oakland to the Embarcadero.