There are a couple ways to rise above the noise and hubbub of Barcelona's busiest street: take the secret elevator to the top of Monumento a Colón for a private bird's-eye view of the city (you're welcome), or find the nondescript door on La Rambla leading up to Barcelona Cooking. I'd recommend both.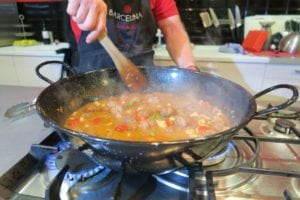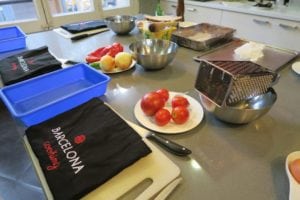 Barcelona Cooking's kitchen sits on the second floor of a building smack-dab in the middle of La Rambla, and gigantic picture windows present a breathtaking view of the goings-on below. Though you'll be busy chopping, kneading, and blending ingredients as you learn to prepare authentic Spanish and Catalan cuisine, you'll want to sneak away to observe the excitement of La Rambla at least a few times during your class.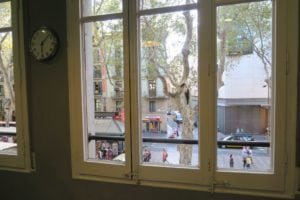 We recently had the pleasure of trying Barcelona Cooking's Classic Tapas Class. We made seven new friends from around the world and learned to craft unique dishes like pintxos from the Basque Country and mar y montaña meatballs (think surf-and-turf but with cuttlefish!). We laughed, we spilled, we drank free local wine, and we learned. I'd say it doesn't get much better than that.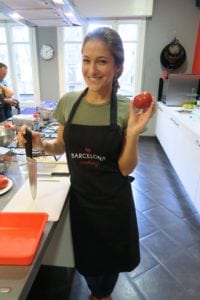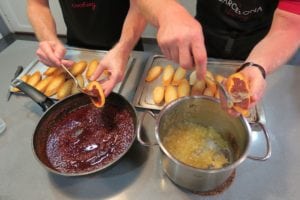 The class begins with a thorough demonstration from a trained bilingual chef. Stefan was a huge help the entire time–we definitely couldn't have made anything edible without his guidance! He walks you through the steps required to create each dish, then sets you free to work in pairs and create a culinary masterpiece. (Or at least try.)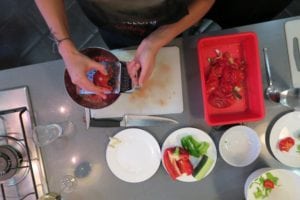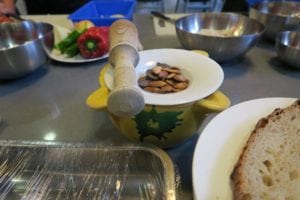 All ingredients are bought fresh from the local market, la Boqueria, and are pre-measured and laid out upon arrival to the kitchen. Dishes are taken care of, too–meaning you only have to worry about the fun parts, like making and eating!
After a few hours of hands-on "hard work," you'll be rewarded with a delicious meal featuring a variety of authentic tapas and local wine. Make sure to come hungry, because there will be plenty of food to go around, and you'll probably even wind up with leftovers! As you savor each delectable bite of savory tapa and berry-rich wine, remember: Spain just tastes better when paired with an earned sense of accomplishment and a merry group of friends.
For even more details, check out my review on TripAdvisor and give it a "helpful" vote.