When's the last time you saw 600,000 begonias arranged over 19,000 square feet to form an intricate design celebrating some unique aspect of Belgian culture?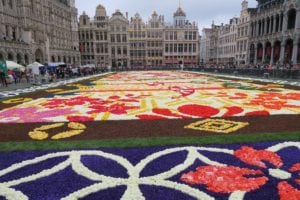 If your answer is "never," block off a week in an even-year August to rectify that, because the biennial Flower Carpet in Brussels, Belgium, is a sight to be seen. This four-day spectacle is an extraordinary production, with hundreds of volunteers gathering in the wee hours of the morning to lay hundreds of thousands of flowers across the gigantic expanse of Grand Place. A vibrant light and music show rounds out the opening day, and similar festivities take place each of the following nights.
Every year, the Flower Carpet design is inspired by a purposefully chosen theme honoring some aspect of Belgian culture or history. In 2016, the Flower Carpet's richly symbolic pattern aimed to celebrate 150 years of friendship between Japan and Belgium.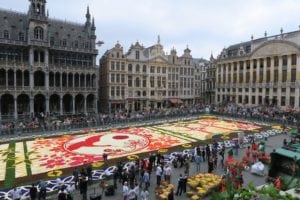 Visitors come from all over the world to marvel at the unique beauty of this floral extravaganza. With the scent of street waffles and Belgian chocolates floating through the air, Grand Place–especially when outfitted with its dazzling array of flora–is a feast for the senses.
For an up-close look at the assembly and premiere of the 2016 Flower Carpet, check out my Facebook Live feed providing coverage of the day's activities and exclusive interviews with Flower Carpet VIPs.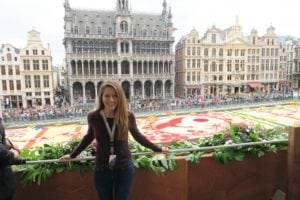 Wondering where to stay if you plan to make the trek to the next Flower Carpet? I recommend this hotel if you want to be in the middle of the action.