What started as a quick weekend trip to Brussels to deliver MONQs to Beyoncé stretched into a two-week stint–partially due to the comfortable luxury, lively design, and personalized service we encountered at Hotel Bloom. We couldn't bring ourselves to check out of our XXL Room after only a few days enjoying its airy space and sweeping view of Brussels…so we unpacked our bags and settled in!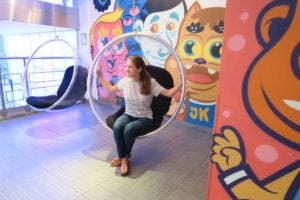 What makes Hotel Bloom especially interesting is that no two rooms are alike–each features a unique fresco hand-painted by a budding European artist. These young creatives were tasked with painting an original piece inspired by the word "bloom," so the mural designs are as varied as the artists themselves. That emphasis on thoughtful, modern design is tastefully carried into every detail of the hotel, from the hanging bubble chairs in the lobby to the delicious-smelling MALIN + GOETZ toiletries in the bathrooms.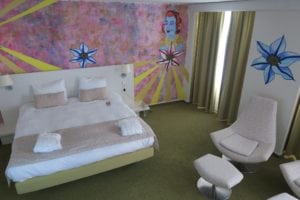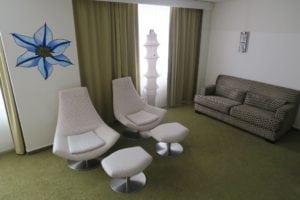 For the health-conscious, there's a fitness center on the top floor with panoramic views of Brussels. Being able to watch the city life scurry on below me while I endured the dreaded treadmill actually made me want to work out!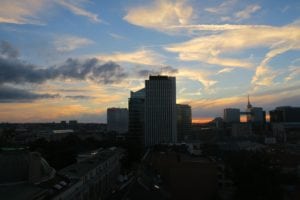 Another highlight of Hotel Bloom is SMOODS–a creative bar/kitchen/lounge concept with seven different "mood islands" radiating off the central bar, all decked out according to different themes (think Safari, Flower Power, Moroccan Bazaar…). You can choose where to sit based on what kind of experience you're seeking! And don't worry–if you're a morning person, Hotel Bloom hasn't forgotten about you. There's a vintage "waffle bus" in the breakfast room where you can make your own Belgian waffles fresh. Such a fun way to experience a time-honored Belgian tradition!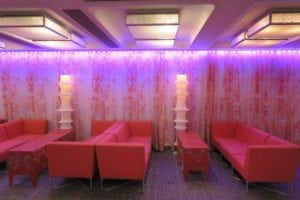 Above all, the service was incredible. Every Hotel Bloom staff member I encountered was kind, gracious, and eager to assist me however they could. There wasn't a question they couldn't answer or a problem they couldn't solve! Their warm smiles and their willingness to go out of their way to be friendly and helpful contributed to the overall upbeat and inviting vibe of Hotel Bloom.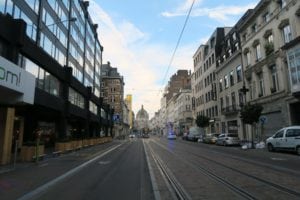 At Hotel Bloom, unassuming luxury meets funky, offbeat design to deliver a stay that is both enriching and invigorating. Fair warning, though: you may end up like us and find yourself unwilling to check out of this Brussels gem!
For even more details, check out my review on TripAdvisor and give it a "helpful" vote.