Since we're keeping a normal workweek, our main opportunities to explore are during evenings and weekends. Luckily, that's when Old San Juan is at its liveliest. Music pours out of open doorways, beckoning passersby to pop in for a typical Puerto Rican meal or a refreshing drink made from one of the countless local rums. And luckily, one of our favorite ways to immerse ourselves in a culture is to eat what the locals eat. (Thankfully, not everything is fried!) These are the spots–some recommended by locals, some discovered by us "honorary" locals–that I'd visit again and again.
In no particular order…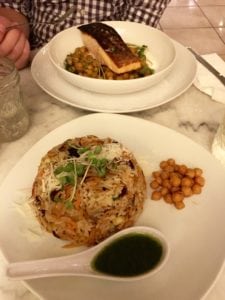 Verde Mesa I have actually dreamed about the "Arroz Verde Mesa" and its accompanying magic green sauce since eating here last weekend–it's that delicious. This charming restaurant is bedecked in whimsically eclectic French decor, and although they have a set menu, there is a more extensive array of specials that changes nightly. Upon arrival, a waiter spends ten to fifteen minutes with you going over the details of each mouthwatering dish available that evening. The surprising part? Verde Mesa is primarily vegetarian, but makes allowances for locally sourced seafood. It is the first of its kind in Puerto Rico, and the farm-to-table focus means that each dish is replete with flavors.
The Poet's Passage An English major's heaven, smack dab in the heart of Old San Juan. Hand-lettered poetry lines every available spot in this unique coffee shop/boutique/spoken word stage. The coffee is fantastic, the baristas are friendly, there are plenty of quiet nooks, and there is a parrot named Neruda. Is it really any wonder that I've found myself here at least once a day?
Pirilo Pizza Rústica Okay, yes, it's a pizza place–but when our Airbnb host raved to us about this spot within a few minutes of our arrival in Old San Juan, I knew we had to add it to our list. There are tons of creative pizza topping combinations and a cuatro (cuatro!) leches cake available, but what made the experience is the second floor seating. A steep staircase hidden behind narrow swinging doors at the back of the restaurant leads up to an entirely different ambience, one marked by dark wood furnishings, old photographs lining the walls, and high-backed seating. Pizza is just the comfort food you'll crave in the warm and inviting atmosphere.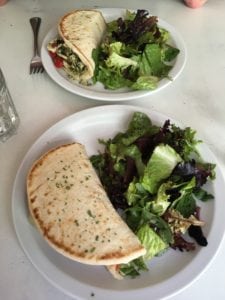 St. Germain Bistro & Café We stopped in for a quick lunch, not expecting much, but entering inside is a little like being transported to another world. We were delighted by the healthy offerings (a welcome alternative to Puerto Rican street food) and the breezy, refined atmosphere. The food was light and fresh, with lots of greens, fruits, and vegetables on the menu. We then discovered that St. Germaine is only one of three restaurants under the umbrella "Sol y Cruz." At Mezzanine, on the second floor, you'll find tapas and cocktails made from local ingredients in a cozy space with antique chairs and tables. During their killer happy hour, we made friends with the couple sitting next to us and came back for salsa lessons the next night–such a fun experience! Ascend one more set of stairs and you'll reach Al Fresco, the rooftop wine bar. This intimate spot is made picture-perfect by string lights twinkling above and a sweeping view of the picturesque colonial architecture that makes Old San Juan irresistibly charming.
La Factoria This bar has been included in a list of fifty of the world's best bars, and for good reason. At first glance, it looks like a small dive in a crumbling building overrun with hipsters–that is, until you notice people coming and going through a small unlabeled door behind the bar. Follow them and you'll find a maze of three additional levels, with the final section alight with salsa music and dancing. Mixologists are in charge of inventing cocktails like the lavender mule and the spiced old-fashioned, and the fresh taste coupled with the speakeasy vibe of this place tempts you to stay and try more than one of their concoctions.
These are my favorites for now, but I'm sure this list will grow as we continue to explore! I'll keep tabs on the best new discoveries and make sure to give the full rundown here.
(Also, feel free to keep up with my reviews on TripAdvisor as we go.)