Use your imagination with me for a minute: You just landed after a grueling red-eye flight spent folded into the middle seat, where all your energy was spent tuning out the sneezes of strangers and the screams of infants. The clock at London-Gatwick declares that it's 9 o'clock in the morning, but your body is on a different schedule and insists that it's 3am. You stumble through passport control, bleary-eyed and grody, and you're dismayed to remember that you can't check in to your hotel until late afternoon. With your wrinkled clothes, heavy suitcase, stiff neck, and parched skin, tackling public transportation in order to hang around the hotel lobby until check-in time is decidedly unappealing, and finding some sort of café or coffee shop where you can loiter in such disarray is simply not an option. As you begin to despair, you imagine an ideal world where you could summon a comfortable little spot to clean up, lay down, and sleep hard for just a couple of hours…
Enter Yotel, my new favorite thing in the world of airports and (what used to be) inconveniences.
This spaceship-like dream, inspired by Japanese design, is located one elevator stop down from Arrivals in the South Terminal of London-Gatwick Airport. Yotel's tiny little rooms, better described as sleeping pods, can be booked by the hour–perfect for early-morning departures, flight delays, and resolving the I'm-exhausted-but-have-nowhere-to-crash dilemma. The small rooms are surprisingly luxurious; there's a full bathroom with a "monsoon shower" (completely accurate description) and an outrageously plush bed. And mood lighting! Plus, with windows and mirrors lining three of the four walls, claustrophobia isn't a problem. Several different types of rooms are available–the premium cabin pictured above sleeps two. The bed sits up or folds flat at the push of a button, and the space underneath is meant to store bulky luggage.
Yotel also offers bunk-like accommodations to sleep one person, and fortunately, all rooms offer the same amenities (bathroom, shower, storage space, etc.) no matter how many they sleep.
Upon arrival, a friendly face will be waiting to greet you at Mission Control. Check-in is quick, and they offer free hot beverages around the clock. Other perks include free unlimited WiFi, a flat-screen TV in every room, a pull-out workstation/desk in every room, free fluffy towels, free soap/shampoo/conditioner, high-tech fans, and a selection of snacks and meals available to be delivered to your pod. In other words, Yotel means luxury accommodations smartly packed into a clean little box. If you've ever unwillingly slept on an airport floor, you will appreciate Yotel as the total game-changer that it is. Now, if we could only get these nap pods on every street corner…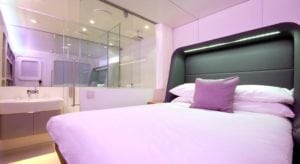 I applaud Yotel for their innovative answer to some of traveling's least pleasant aspects. They truly have the potential to change the landscape of travel, and I eagerly await their continued expansion into more cities and more airports. I sincerely wish I could travel solely to airports with Yotels from now on! They are lightyears ahead of the standard run-down airport hotel–and more convenient (hourly rentals, folks!) and cheaper, too.
Our stay at YotelAIR London-Gatwick was comfortable, refreshing, and exciting. I look forward to the next time we're traveling through London, because I will intentionally book the least convenient flight possible so that I have an excuse to visit Yotel again!
P.S. Here's a map to Yotel if you'll be visiting their London-Gatwick location:

And please give my review on TripAdvisor a "helpful" vote if I answered any of your questions about staying at Yotel London-Gatwick!
Questions, comments, and stories of relevant experiences are welcomed in the comments section below.
Note: All photos are from Yotel.com.