We recently had the pleasure of spending the night at Taylor House Bed & Breakfast. This Victorian-style home is tucked away in peaceful Jamaica Plain, just outside the hustle and bustle of downtown Boston. The property features lush gardens and luxury amenities in a warm and homey atmosphere.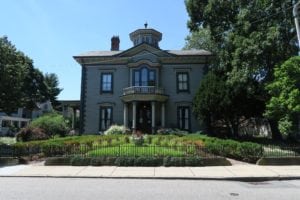 The tree-lined neighborhood is dotted with many beautiful homes, which makes for a very pleasant walk down the block to Jamaica Pond. At the other end of the street, there are several restaurants, bars, and shops. JP Licks is a local favorite ice cream parlor, and we had a great late-night meal at Galway House after our evening flight into Boston. I even got a fabulous mani/pedi in the morning at a nearby nail spa!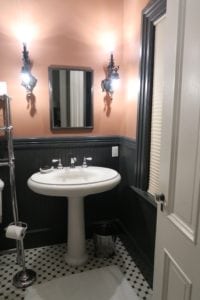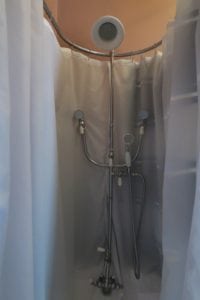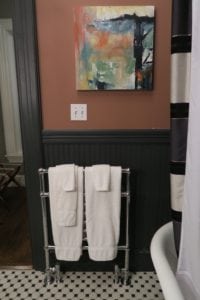 We stayed in the Norris Room, a gray and white-hued suite with wonderfully creaky wood floors and thoughtfully curated accents, such as crystal doorknobs, contemporary abstract art, and old-style bathroom fixtures. The suite's bathroom is particularly appealing: a claw-foot tub rests atop black-and-white checkered tile, and a shiny chrome shower contraption is equipped with four shower heads to get you cleaner than a whistle. (Seriously. The high water pressure in the shower gave me a far better back massage than the woman at the airport massage bar earlier in the day!)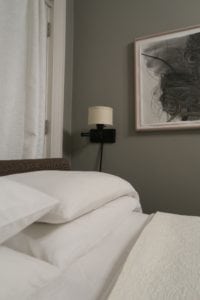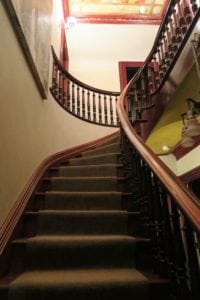 Another perk of the Norris Room is that the bed and breakfast's communal tea/coffee station is just outside the door. Here, guests can prepare a hot drink at any time of day or night, or they can help themselves to toiletries and trinkets they may have forgotten. There is an extensive collection of DVDs and VHS tapes available here as well (yes, VHS tapes! Some of my childhood favorites were on the shelf!), along with assorted books. Additionally, Taylor House's powerful WiFi router, provided by an Apple Time Capsule, is located just outside the door, ensuring that you are well connected throughout your stay.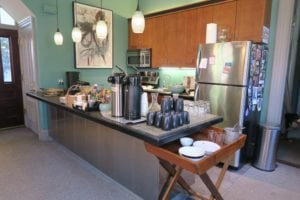 Each morning, you will be greeted with a home-cooked breakfast featuring a diverse spread of items and a menu that changes daily. I can still taste the rhubarb and cherry coffee cake that made its way to my plate while it was still warm from the oven, and my husband feasted on a savory frittata with asiago, asparagus, leeks, and red onion. Beats a bowl of cereal or a flavorless waffle at a big-name hotel chain any day of the week! Make sure you leave time to meet and talk with Dave and Daryl (proprietors of Taylor House), José, and fellow guests. With all of their stories and with the limitless supply of freshly brewed coffee, great conversation is bound to ensue.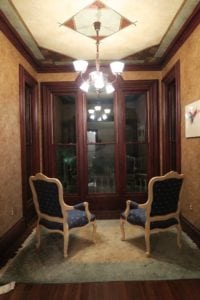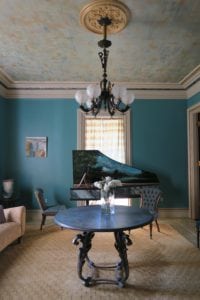 The charm of Taylor House's Victorian architecture mingles perfectly with Dave and Daryl's personal collection of contemporary and abstract art. Fresh, colorful paint enlivens the bed and breakfast so that it feels incredibly cozy and homey yet just "modern" enough to be wonderfully luxurious. Taylor House is an outstanding spot to rest and recharge after sightseeing around Boston or simply when you find yourself in need of a pleasant getaway. I'd highly recommend paying this charming bed and breakfast a visit!
Practical tip: To travel between Taylor House and central Boston, you can take the nearby bus or the T (subway), but we opted for Uber and it was no more than a 20-minute ride, and thus relatively affordable.
Check out my review on TripAdvisor and give it a "helpful" vote.
I hope you get to experience the pleasure of a Taylor House stay for yourself!