*This is a guest post and was not written by Skye Sherman.
When talking about the UK, we can't help but focus on London, a famous capital sprawling with hearty cuisines, historic sites, and, of course, a regal atmosphere. On the flip side, as a popular tourist destination, it inevitably presents congestion difficulties on the road, runways, and even parking spaces.
Thankfully, London comes up with a systematic approach to every problem. In terms of beating the traffic, the city highlights an exemplary network of public transportation methods, ranging from the Tube to the double-deckers, all the way to the many river buses that travel along the Thames.
With busy airports and car bays, it helps to have comfortable and convenient amenities for the thousands of airline passengers each day. London's Heathrow and Gatwick Airport are just some of the top establishments with overcrowded departure areas and full parking locations. Parking4Less, a company that operates out of both UK aviation hubs, states that many of these airports now have on- and off-site parking features. Additionally, the website suggests an airport hotel with parking feature, a popular alternative that's ideal for those who are on an early morning or late night flight.
Nowadays in the United Kingdom, however, many travellers prefer a more relaxing, easier staycation over foreign holidays, as reported by The Telegraph. Based on the aforementioned article by Katie Morley and Lydia Willgress, this travel option has been continuously increasing in popularity since the beginning of the year. We all get that itch to escape the craziness of city life and immerse ourselves in the UK's bucolic delights. With that, here are some English villages every traveller should visit.
Great Baddow (Essex)
Like a true English locale, Great Baddow features a rich land where ancient artifacts such as those from the Stone Age, Bronze Age, and Roman Era are discovered. It also has an old-fashioned approach when it comes to trading and other local businesses, staying true historical prominence. When staycationing in Great Baddow, it's imperative to visit sites like The Old Brewery, Baddow Court, and Beehive Lane.
Lacock Village (Wiltshire)
Lacock Village is similar to a movie setting–supposedly wizards and warlocks battled during there the olden times, which is why this rural countryside has been often used to film TV shows or movies! The area represents a quintessential English village complete with old workhouses, classic churches, and charming cottages. Simply by sticking to its roots, Lacock Village offers something out of the ordinary.
Hawkshead (Cumbria)
Owned by the Furness Abbey up until the 12th century, Hawkshead is an ageless township that has thrived since the Norse period. Today, the small village still has the same muddled yet captivating houses, archways, and town squares loved by well-known local authors including Beatrix Potter and William Wordsworth. Keep in mind: cars are banned in Hawkshead, so if you're planning to visit, be sure to park just outside the village.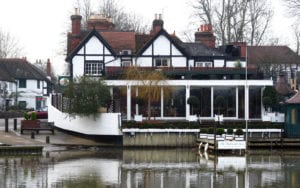 Bray (Berkshire)
Bray is a large village in the English county of Berkshire. In contrast to the above-mentioned locales, it boasts a plethora of sophisticated–even world-class–cuisines. As a matter of fact, this rural location has six Michelin-starred restaurants within 300 yards of each other! In this way, Bray is on par with the likes of London and Paris when it comes to culinary delights.