Ahhh, ebikes. All the perks of riding a bike with none of the "legwork." Cruise along peacefully, even down the Gothic Quarter's most tiny hidden streets, with just a slight nudge of the pedal.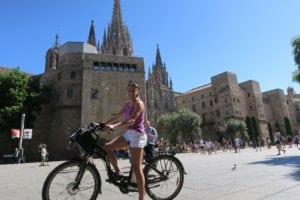 Biking is a great way to explore because you get the same up-close experience as you would if you were walking, but you end the day with feet that are far less sore than they would be if you had conquered all those miles on foot. You'll cover way more ground on a bike and still have the energy to lift your pitcher of sangria when the day is done. Still, riding a bike can be tiring, especially on warm Barcelona summer days.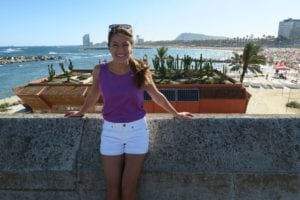 And that's where ebikes come in. They look like a bike and feel like a bike, but the effort required to explore is significantly less than what a bike demands. The small motor propels you forward with enough speed to quicken your trip but not so much that it'll send you flying through the streets faster than you can peer into every shop window.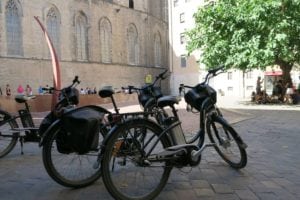 Thankfully, I've found Barcelona's greatest ebike tour company: Barcelona eBikes. And–no surprise here–we opted for the Wine & Tapas Tasting Tour. With this tour, you'll explore a section of the city and then finish off your biking adventure with several rounds of tapas, wine, and cava (the Spanish version of Champagne) at a historical establishment.
Fortunately, the day of our tour, Els Quatre Gats was on the itinerary! Eating here is like taking a step back in time. It is entirely charming and has been frequented by artists, celebrities, writers, and thinkers in its 120+ years of history. If it's good enough for Pablo Picasso–4 Gats was one of his favorite hang-outs and the venue for his first exhibition at just 17 years old–it's good enough for me!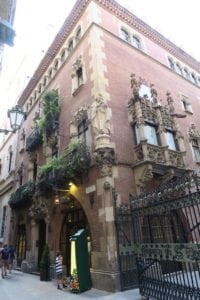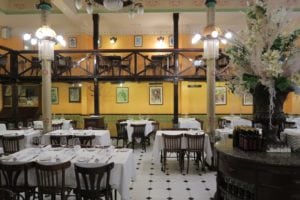 But before the tapas and wine comes the touring. Alessia, our tour guide, was warm and friendly, and very eager to share with us the Barcelona she so dearly loves. She pedaled us through El Born neighborhood, Port Olympic, the Gothic Quarter, Park Ciutadella, Barceloneta, and along the beach. The exact stops (and the duration of each) vary depending on the tour participants, but we saw and learned so much in our few short hours. At each stop, you'll hop off your bike for a brief lesson on the significance of the place and receive some insider knowledge, and then you'll get the chance to walk around for a bit before riding off to the next sight.
We had a great experience with Barcelona eBikes, and I love that they have several different tours at various times throughout the day. They're really doing a good job of making tours smooth and enjoyable for visitors while also maximizing the time available to see Barcelona. Our afternoon with Barcelona eBikes deepened my understanding of and appreciation for the rich history and culture of Barcelona–and its wine! Now to try their tapa-less tours…
For even more details, check out my review on TripAdvisor and give it a "helpful" vote.